Tours
The City of Logan is a culturally rich, diverse destination filled with amazing experiences that are just waiting to be discovered. Whether you're touring Australia's oldest rum distillery or marvelling at the skills of our local chocolatier, the unique story of our First Peoples or the stunning Zen Buddhist Temple Logan will reveal sights you never imagined this close to Brisbane.
Picture yourself travelling in a four-wheel drive bus along Fraser Island's beaches and rainforest tracks, swimming in a crystal clear lake with a white sandy bottom. Or how about paddling in a completely transparent kayak over sunken Moreton Island ship wrecks, seeing an abundance of fish and colourful coral through the bottom of your kayak? Or maybe picture yourself stepping off a beautiful coral cay into turquoise water, snorkelling through mazes of brightly coloured coral, seeing big sea tu...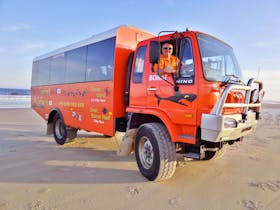 Big Mountain offers guided single-day or multiple-day mountain bike excursions within Australia, as well as tours to New Zealand and North America. They seek out the very best single-track and combine that with unique cultural experiences, great food, and accommodation, in a well-organised, small-group adventure led by professional guides. The Big Mountain difference is Professional Instructors - All of Big Mountain's Instructors are PMBIA accredited, have a current First Aid credential, and a...